CLS is the unique provider of LEO satellite terminal, manufactured in France, and it comes with a Type-Approval certificate issued by the Bureau Veritas. The LEO is made of a transceiver unit (including a GPS receiver and an Iridium satellite modem) and a junction box for connection to the mains. The terminal is specially designed to operate in harsh marine environments with its IP67 dome. It can be configured with SSAS buttons fully compliant with the SOLAS regulation. The LEO fully compatible with LRIT regulation requirement can be remotely configured.
The LEO satellite terminal tracks your fleet and vessel through Iridium's satellite constellation that covers the whole globe from the North Pole to the South Pole. We predict that tracking will be further enhanced with the addition of Iridium's new generation of NEXT satellites.
The LEO terminal has an internal battery that can last for up to 10 days when sending 1 position/hour. The terminal is also tamperproof with a tampering detector if transceiver is dismounted, tamperproof screws and tampering detector that generates a warning message when the dome is opened. As for the Ship Security Alert System (SSAS), CLS operation center provides 24/7 emergency calls to disseminate alerts according to the chain of command whenever the LEO terminal is being tampered with.
The LEO terminal can be configured to provide position data at 1 hour, 30mins, 15min and 5mins interval, depending on your needs. We recommend you to have a 1hour interval to reduce costs while being able to track your ship simultaneously.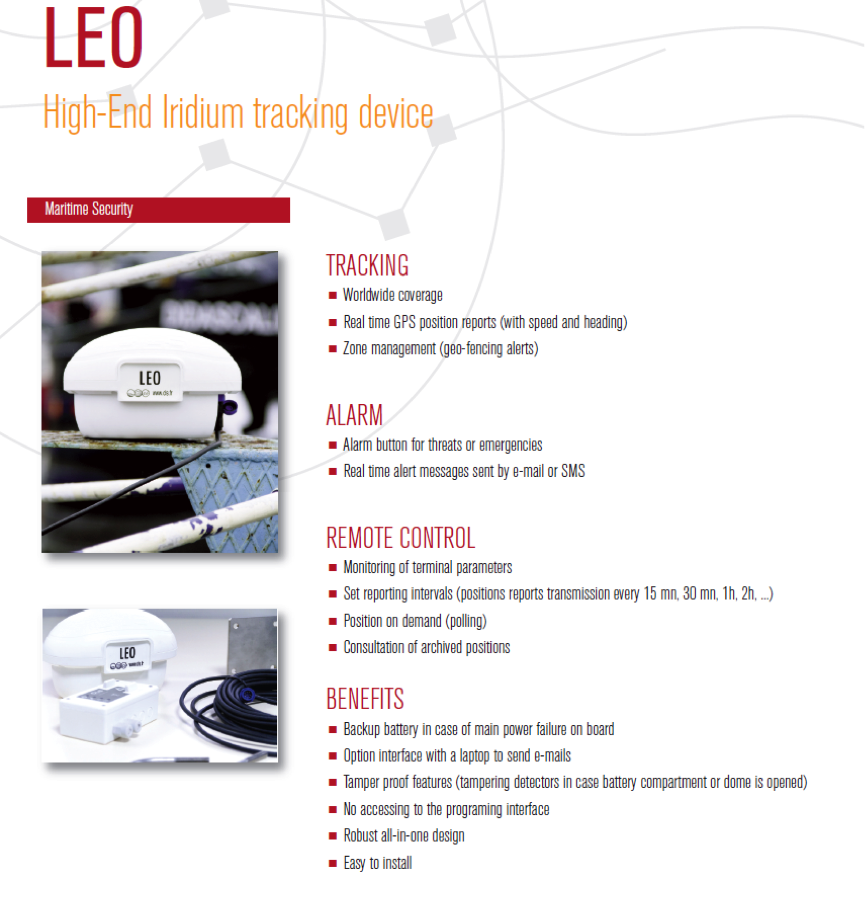 Features
Tracking: Real-time position reports (with speed and heading)
Remote Control: Sensor monitoring
Zones updatable remotely
Alarm: Alarms triggered by geographic event or by modification
Communication: Connects to data terminal equipment or mini laptop to send emails, electronic catch reports with Uplink data burst capabilities
Benefit: Extended battery life (10 days), reliable, up to 90 days data memory
Global satellite tracking, logbook, and email.
Item Dimensions & Weight
| | | |
| --- | --- | --- |
| | Dome | Junction Box |
| Length | 200mm | 121mm |
| Breadth | 110mm | 66m |
| Height | 118mm | 52mm |
| Weight | 762g (Without brackets) | 145g |
Technical Specifications
Junction box
Connection interface for PC or data terminal (sub-D9 – RS232 connector) (Tx,Rx,Control,GND) 9 600 bps)
Visual display
LED displays power status, reception of text messages/warning messages/alerts System test button (beacon + service)
Audible alarm/buzzer
Activated when beacon is not functioning properly
Waterproof
Dome: IP67

Junction box IP54

Temperature
Operating Temperature
-20 à + 60 °C
Storage Temperature
-25 à + 70 °C
Power supply voltages
Optimal: DC + 12V or 24V (Operational: DC10V to 30 V, with protection up to 50V)
GPS
Multichannel 50 ch
Compatibility
IEC 60945
Tamperproof
–          Tampering detector if transceiver is dismounted

–          Tamperproof Screws

–          Tampering detector that generates a warning message when the drone is opened.
Class Approval Certificates
Downloads