Singapore Armed Forces Day 2011 Rededication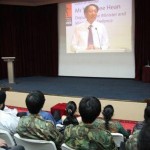 On this 1st day of July 2011 (Singapore Armed Forces Day), we at Fredrik Marine remember the maxim of never taking our liberty and freedom for granted. We recall the many trials and tribulations Singapore faced as a young sovereign state and of the many who has went before us defending the freedom and peace we have today.
The Fredrik Marine management, our staff and our associates proudly stands in solidarity with our fellow citizen soldiers of whom contributes not only towards Singapore's economic stability, but also in their priceless contributions of time, sweat and blood towards the defense of Singapore. They do so selflessly and sacrificially for love of their country, their family and their friends. On behalf of all of at Fredrik Marine, we salute you.
CPL (NS) Nicholas Chan, 822nd Battalion, Singapore Infantry Regiment
Managing Director, Fredrik Marine
More details here: SAF Day Combined Rededication Ceremony