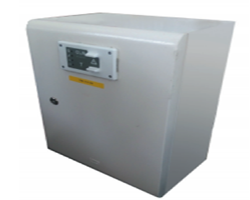 Features & Perks
Measures and cross-checks data to detect:
Inter-tank Transfers;
Mixing:

Cappuccino bunkers: frothing/bubbling effect caused by compressed air blown through the delivery hose;
Fuel delivered with high water content: traces of water in bunker fuel are normally very low about 0.1-0.2% by volume. ISO 8217:2010 Fuel Standards for 'Marine Residual Fuels' gives the maximum allowable water content to be 0.5 % v/v.;

Falsifying Documentation onboard:

Questionable Tank Sounding (Calibration) Tables;
Incorrect Fuel Densities and Missing BDN Records (Bunker Delivery Note);
Overstating Fuel Consumption;
Oil Record Book (ORB) errors;

Falsifying Surveys: magic pipe is the most convenient and effective method to conceal bunkers, such as deliberate altering of temperature & sounding tapes;
Product Description
"If you can't measure it, you can't manage it."
The fuel monitoring Sat Box has been configured to be able to interface with any flow meter model (volume, density, mass, temperature) and engines' control panel (to capture RPM, clutches activation, engine load, etc.) to generate real time data and produce graphical reports to show fleet efficiency
It is a widely known fact that fuel theft is omnipresent in certain regions and generates a huge amount of money loss for ship managers and owners, and we seek to resolve this problem. The likelihood of fuel theft will be minimized with the installation of our fuel monitoring Sat Box.